Atlantic ocean
Jazz and catamaran - A winning cocktail! (3/3)
This is already our last chronicle about Honky Tonk and its jazzmen. How should we conclude this series of travel stories? I could carry on listing our ports of call and concert venues. It would include Galicia, Portugal, the Canaries, Madeira, the Balearic Islands, Sète, Marseille, Corsica, Sardinia, and Tunisia... However, it would be a shame to try to sum up three years of travel in just a few lines. I could give you the names of all the musicians who have been crazy enough to join us again and again. But when it all comes down to it, Honky Tonk is just a catamaran that sails, that welcomes musicians, plays music, sails some more, and plays more music. You know all about that. So, since this is the last one, I'm going to choose the most logical way to tell our story. When you come back from a long trip, the adventures are rarely told in chronological order. What is said, when you all get together afterwards, are just anecdotes. These small details are precious fragments on the traveler's path. So here are a few of our memories. Snippets from the last few years on board that made the trip an unforgettable adventure. A journey that is not finished, and that is not about to end any time soon.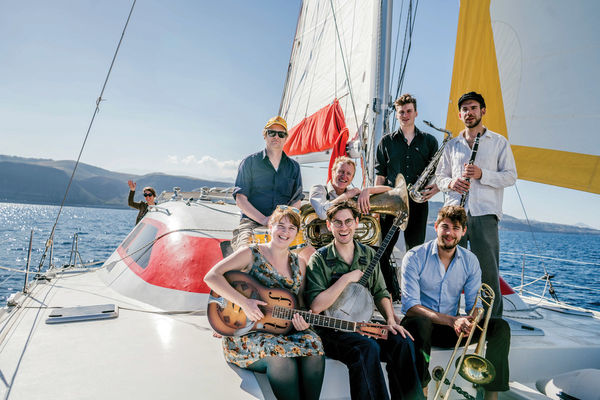 Filming a video in the Canaries. Felix and Anton are now part of the crew which has set off for six months on Honky Tonk.
Storm warning
What's the one question you can't avoid asking a sailor? "Have you ever been in a storm?". How many times have we been asked? Sometimes we have to almost apologetically announce that no, we have never been in a real storm. No story of a shipwreck, a dismasting or man overboard. Is it our lucky star that's watching over us? What is for sure, is that the experience of Bots, the captain, has no doubt saved us from many disasters. However, when we are asked the famous question, we sometimes tell the story of this adventure: We were off the coast of Portugal. It was Fall, and the weather had been wet for some weeks. The rain and waves were taking turns at keeping us soaked. The bottom of the boat was already damp with condensation (Honky Tonk was built in the Caribbean and is not equipped with any insulation or heating). We therefore had to head south and gain a few degrees and flee these water-laden clouds. Quiet sailing zones were rare. We had to head south, but the weather was heavy. In spite of the strong swell that was forecast, we set off in the direction of Lisbon, where musicians were waiting for us. At sea, it was a roller coaster ride. Sixteen-foot (5-meter) high waves were lifting us up and down, challenging our seasickness resistance. Night watches were not easy. We were surrounded by darkness, between the black sky and the steel waves rising like walls. This kind of sailing gives you the shivers. When you're small and alone, a confrontation with the ocean can be brutal. We were exhilarated and frightened at the same time and we were tired. The sea continued to build up and we felt that we were pushing ...
Subscribe
Subscribe to Multihulls World and get exclusive benefits.
Subscribe
What readers think
Post a comment