Multihulls Match
A very discreet gifted sailor
When you are given a nickname, it means that people like you, unless of course it has a really derogatory meaning. But when you are nicknamed 'Le Bon Choix' (the right choice), there is no doubt at all! We don't know exactly who gave him this nickname, but it suits him well. Was it Catherine Chabaud, or Isa Autissier? In any case, it was the two skippers' very feminine intuition which led to them successively engaging this sailor from Normandy, who is as taciturn as a Breton. As an exceptional boat-preparer at first, he was appreciated for his versatility and his high standards. Catherine's perfectly-prepared 60' monohull completed circumnavigations one after the other, as regularly as clockwork. By chance, and as fate would have it, it now sits at Lorient, in front of Lionel's trimaran's base. From his office balcony, where he shares lunch with his team, Lionel can thus see at a glance how far he has come. Even a little more. From his first steps on and under the water on the boat belonging to his father, who was a keen diver. Then the essential apprenticeship in dinghies (420), which quite naturally led to cruising, then the first regattas.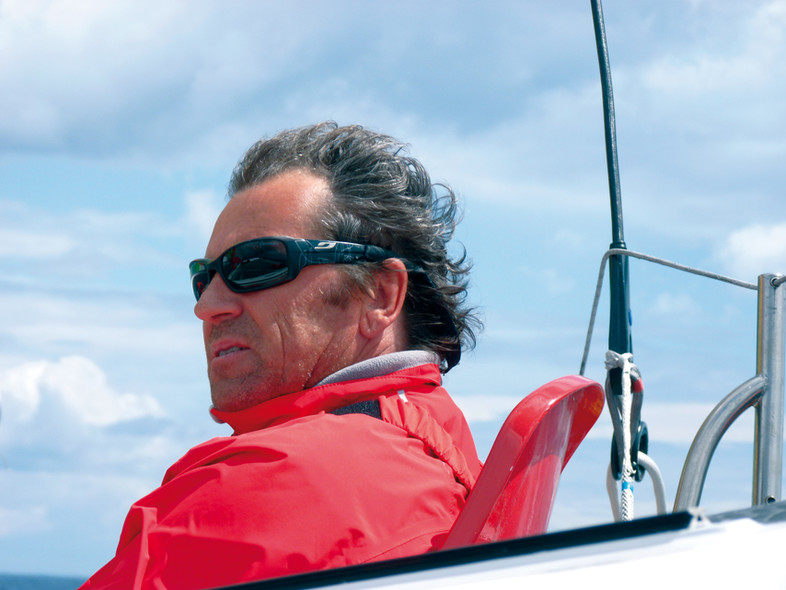 Lionel is only happy when he is on the water. So he took on everything, from charter in Polynesia, to regattas in maxis in the Mediterranean, Always available, always professional, he had no career plan, but did everything with passion and a burning desire. But he was to have a career. As a singlehander, of course, a discipline dear to the French, and one which corresponds to both his character and his technical versatility. He was an untiring pupil, and worked hard at his trade, despite a few accidents at sea and several dismastings: mini-transat, Figaro – both the sailor and the man himself became tougher. In the biggest boats, quite naturally, through his knowledge of those entrusted to his expert hands, from being a preparer, he became a crew member. And as talents attract one another, the results quickly followed. We no longer know if Lionel is taken on to get good results, or if we get good results because Lionel is in the crew! After Catherine and Isa, the top skippers fought for his services. It became more of a 'Who's Who' of French ocean racing than a racing record! With Karine Fauconnier, he won the Transat AG2R. With Franck Cammas, Québec St-Malo. With Bruno Peyron, the Jules Verne Trophy. With Pascal Bidegorry, the Jacques Vabre Transat! With Cam Lewis, he 'only' finished third in The Race! All this in just five years, from 2000 to 2005, if you please! The title of 'Sailor of the Year', awarded this last year, has without a doubt never been more deserved.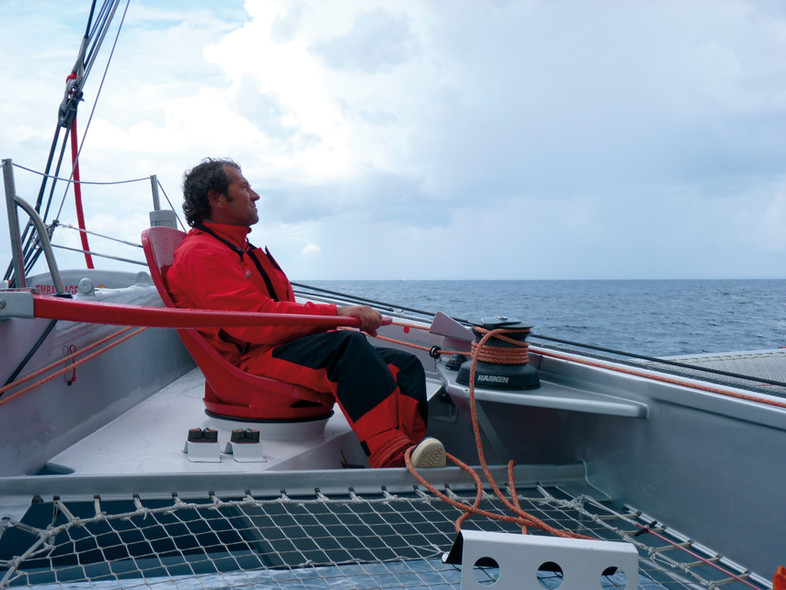 It was therefore no surprise that Team Gitana entrusted him with the construction then the responsibility for the trimaran Gitana X, with which he raced the 2002 Route du Rhum. But it was with Gitana XI that he wrote one of the best lines in his racing record: a brilliant victory in the 2006 Route du Rhum, in the knock-out time of 7 days, 17 hours, 19 minutes and 6 seconds, at an average speed of over 19 knots! A record which still stands, despite the craze for bigger and bigger boats which has taken hold of the little world of multihulls, since Franck Cammas won the last edition aboard Groupama 3, his 31.5-metre trimaran, originally intended for racing around the world fully crewed! Although his record hangs by a thread faced with the entry list for the coming edition, Lionel intends to put up a good fight. To do this he has built a project which reflects his personality: sober, but effective. With a sponsor which is just like him, a group of agricultural cooperatives with values which correspond well to his own. At their request, within the framework of a limited budget, he offered them the best value for money! He bought Thomas Coville's former trimaran, Sodebo, salvaged the arms (which are so expensive to construct), the rig and the sails, built two floats and a central hull which he lengthened to...80 feet! Why? To have a boat which is light (7.2t), boosted, but less stressful. The lengthening offers the boat new potential downwind. The boat is safe, incredibly safe. Too safe, perhaps, leading to the overconfidence which, according to him, cost him his capsize this winter, off Brazil. While on that occasion he showed all the control and presence of mind which have made his reputation, you can feel that the trauma is still present, and that caution is appropriate. It also cost him a mast and a full suit of sails, and all the electronics had to be replaced! But you can also feel he is concentrating on his aim. His team is strong, united around the same aim: a 'clean' Route du Rhum. Leaving the MOD 70s behind and being there in case the bigger boats don't make it! Every detail counts in this preparation phase. So, as an expert, he takes an interest in everything, down to the realization of the joints of the Perspex domes. Confidence doesn't exclude supervision! He never raises his voice. He only becomes more authoritarian when he thinks that the boat or the equipment is suffering unnecessarily. You can feel that he can't wait to find himself alone aboard, off Cape Fréhel, when the last accompanying boats have turned back, and the helicopters have returned to their base. He will be able to get into his rhythm, and be at one with his machine. The affection he has for this boat is obvious. He likes its aerial sailing, the high speed that it allows. His experience, his physical condition, the protocols established, give him complete confidence. The stress and the adrenaline that singlehanded sailing on rockets like this induces are both a drug and a guide. A reminder deep inside himself that he must be at 100% all the time, both for performance and for safety.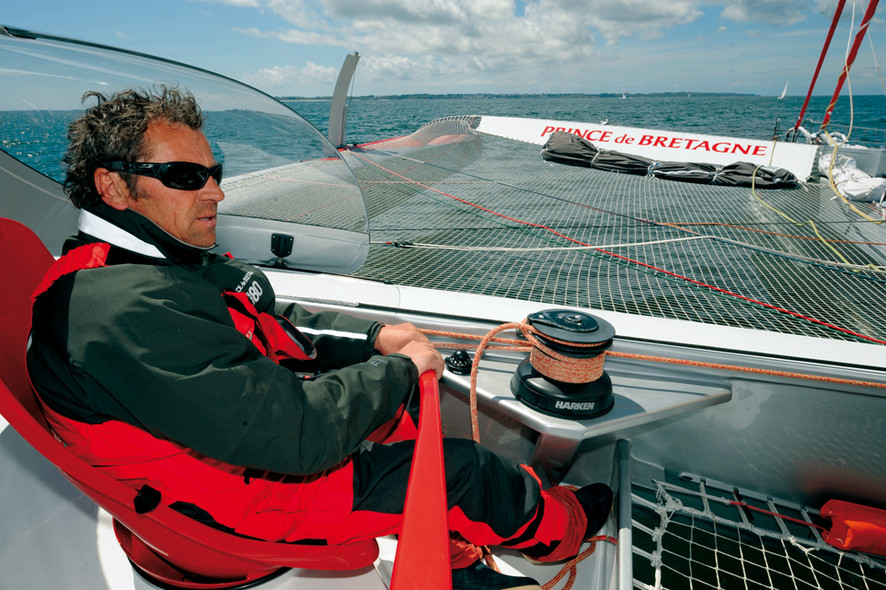 We will see him at St Malo on 2nd November, and as soon as possible in Guadeloupe, so he can tell us about this new crossing, in his usual few but very effective words. No doubt another very nice entry in the record of one of the very best French sailors of modern times.
Fair winds Lionel!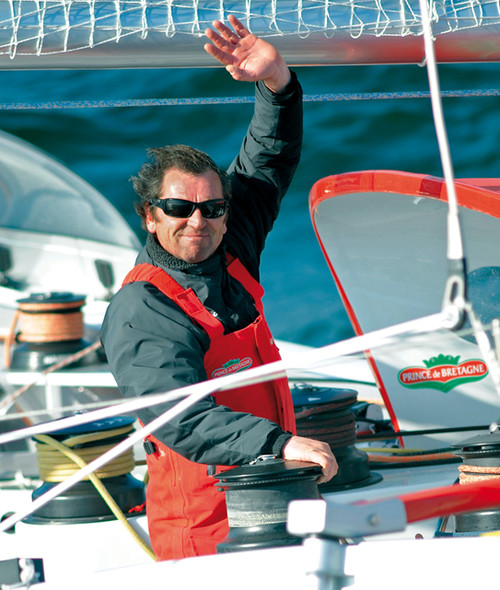 What readers think
Tell us your opinion