Power catamaran
Charter - How about a week on a PowerCat?
Back in June, when we decided to compile this Multipower Special Edition, we had plenty of content regarding the tests and the different models that would be presented to you. But we felt that the edition was lacking a little soul. We needed to live the Powercat experience. Indeed, while all the journalists in the editorial staff had had the opportunity to try most of the power-driven multihulls on the market - and dozens of new models are already waiting for us - our last long-distance cruising with under power dates back to 2013! Furthermore, the «historic» culture of Multihulls World is essentially about sailing. So, it seemed relevant to us to discover life aboard a power multihull. For my part, this was my first powercat cruise.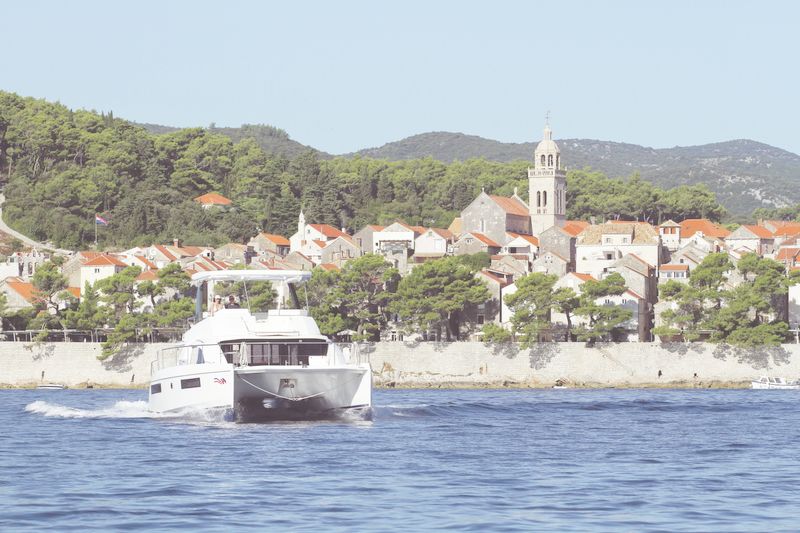 Marieta, our Moorings 433 PC, at the foot of Korčula's ramparts in Croatia.
That's why we asked The Moorings, the best frequented charter company in terms of power catamarans, to find us a powercat. Anytime, anywhere (as long as we could get there given the current travel restrictions...). What they found for us was a Moorings 433 PC (a Leopard 43 PC), named Marieta. She was waiting for us in Croatia in mid-August. SHORT-HANDED CREW A family crew was quickly assembled: my partner Maud, my brother Paul and his daughter Norah - there should have been two more of us, but an expired passport five days before departure disrupted our plans... The rarity of flights also meant that we had staggered departures and arrivals in Split. Maud and I were aboard at the start and end of the cruise. Our relatively early arrival on Saturday allowed us to benefit from an accelerated «skipper briefing» procedure: at 3 pm, after a local lunch in the village of Agana (barely 20 mi/ 30 km northwest of Split) we were ready to leave. Refueling had been prepared in advance: Paul had «done the shopping» online, using the dedicated Moorings platform. This formula meant that we could save precious time and avoid pushing two or three shopping carts under a blazing sun... Mirna, customer manager at the Agana base, booked us a restaurant and a mooring buoy on the island of Šolta - barely 10 miles away. I revved up the two powerful 320 HP engines and switched on the instruments. Sailor's reflex: I noted that the wind was blowing on the beam at 10/12 knots and anticipated the possible drift toward our quayside neighbor, a Leopard 58. Perched on the flybridge, I enjoyed an excellent view of the water, but I couldn't help with the warps. Maud still has limited sailing experience, but the base staff is always present just in case. The throttle levers are particularly pleasant; they allow you to intuitively control the power, without any effort. With both engines engaged, the 43 PC went straight ahead, without deviating: the skeg keels grip well in the water and windage is inevitably reduced by the lack of a rig.
A SENSE OF FREEDOM
And we were off! On an adventure, excited with the novelty and not knowing what we would discover! Coming ...
Subscribe
Subscribe to Multihulls World and get exclusive benefits.
Subscribe
What readers think
Post a comment