Multihulls Match
MULTIHULL HEAD TO HEAD Which cost effective one-design sailboat to choose for spectacular racing?
I'm rooting for the FLYING PHANTOM catamaran By Tom Laperche
Multihull mag readers will already know Tom who, with his brother Mathieu told us the story of their delivering of the trimaran Hydrofolie from the Trinité sur Mer to Madeira (they weren't even 18 at the time!). Three years later, Tom is involved in the Team France setup and he's "having the time of his life"…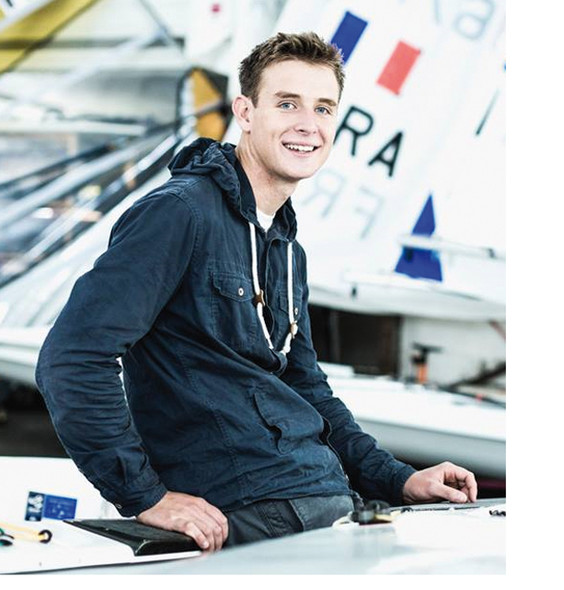 "We passed the starting buoy of the Eurocat Race: It was wild! We were careful not to fly too high; there were two large reefs in the sails. Here we go 24-27-29.8 knots! I stay up front, but we calm things down otherwise we'll never reach Houat!"
The previous fall, a great opportunity for young French people came up: the possibility of joining the Team France youth setup, with a view to being part of the crew that would be representing France at the next Youth America Cup. This meant some hard training on a Flying Phantom throughout the 2015 season! I didn't hesitate when deciding whether to put myself forward. The only question I asked was "Where do I sign?" I got through the physical and motivational tests and joined the team full of optimism and started a program that fitted ideally with engineering studies. For someone who had started on multihulls very young, as well as winter sports and water sports… the use of foils is simply a logical follow on to everything that excites me: getting more speed and sensation. When I was still in my Optimist, I had seen the Hydroptère and the international Moths sailing, and it got me dreaming. I first tasted the sensation of flying on a boat when I was 15, and since then it has been part of my style of sailing: It has just become the best way to have a great time and it's definitely the way to sail today. To be able to take the strain off the boat, accelerate and then take off is just incredible! It has made our sport richer and more complete: the waves and the bodies of water haven't changed, yet we are sailing four or five times faster! A higher level of concentration and commitment is required, which is exactly what competitors are looking for.
Sailing is the only sport which has seen performances improve at such a rate (we are 4 to 5 times quicker than the 1970s boats. The Flying Phantom Is a Formula 18 which has been enlarged and lightened and which has more sail area as well as the famous carbon appendages: the foils. Handling it in easy conditions of 8-13 knots should be within the capability of any competent sailor. Turning in a constant 20 knots of wind and racing around the cans does demand some training, but it is so exciting! It's an easily manageable way of sailing, at a reasonable price, using small dismountable multihulls. It should be a growth area. There are currently plenty of really impress races around that are open to the public, and at the moment it's the ante room before you get to very high standard "flying" sailing. I remember 25 knot reaches with several Flying Phantoms at the Cannes championship. We were literally on a knife edge, and there is nothing quite so exhilarating! During a week's training in the Bay of Quiberon, Brittany, the day before the Spi Ouest France, we crossed the bay at 20 knots despite there only being 11 knots of true wind! Sailing like that around all the other racing boats, with their cameras clicking away, we felt as though we were on another planet, and that they were still in the Middle Ages! Today, many people still believe that flying is something which is not possible for them, but you just need to try it: it has to be the future! When you see the speed at which ocean going racing multihulls are developing, there's no doubt that in certain conditions we will be able to fly all the time, and even take a nap when solo! That would be magic. Ready to take off? Let's fly!"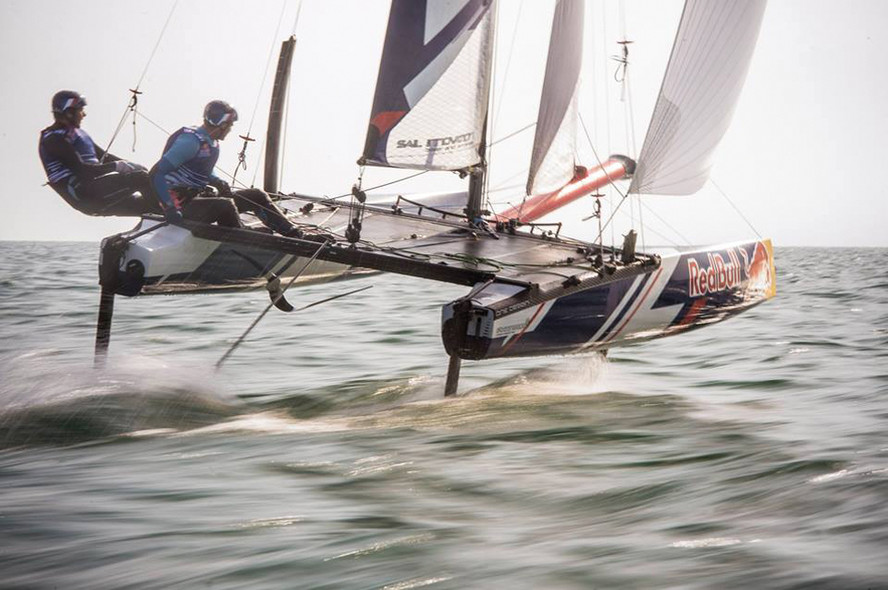 I'm rooting for the Prao Pacific Bucket List By Rob Denney
Rob is the well known architect of the Harry Proas. He recently designed the monotype Bucket List (12mx 7,50m and only 700kg!) in a bid to promote a different style of racing, and to allow us to leisure sail on an extraordinary and very modern Prao Pacific.
"When I was asked to "compare" Bucket List to the Flying Phantom, I was quite excited. I thought it would be a great opportunity to show the formidable French (and international) multihullers how cool Bucket List was. The FP is a known craft, which has been shown to do exactly what it was designed for. Bucket List, although based on sound principles developed over 20 years of harryproa designs is not sailing yet. So, first off, let me say that for round the cans racing I think FP would be a blast and I would jump at the opportunity to race one. I am a reasonably fit and skilled sailor (18' skiffs in my youth, 7 Sydney-Hobarts, plenty of inshore and offshore multihulling…) who does not mind swimming while he learns. Bucket List has a different reason for being. I wanted to give as many people as possible the opportunity to sail a fast, safe, multihull round the buoys and in offshore and distance races without it costing an arm and a leg. And give them somewhere to sleep on overnight races and while attending regattas in expensive places like Cowes, Hamilton Island and Antigua. These people would not have to be the "crème de la crème" of yacht racers. The aim was a boat that anyone who knew how to sail could step aboard and not only have an enjoyable time, but be in with a good chance of beating the opposition. An essential requirement was, therefore, that the boat was as fool proof as possible. Not just simple to sail, but able to get out of situations that a more knowledgeable crew would not have gotten into. Situations such as bearing away in a strong wind around windward marks or to avoid other boats, getting trapped in crowded locations with no room to tack or gybe away, being overpowered in a squall or sailing faster than your knowledge of your surroundings allows. The single, self-vanging sail on an unstayed mast means that you have total control over how much power you get from the rig at all times. Regardless of the point of sail, you can depower by easing one lightly loaded sheet, and then trim it on to give exactly the amount of power you are comfortable with. Plus, you can stop the boat and quickly reef it in the event of a squall. This gives far more control over your speed than a conventional 3-stay rig. Unstayed rigs on long hulls also have safety benefits. First, you get a lot more warning that a nose dive is imminent as there is more bow to bury before the pitch angle becomes precarious. The proa format means that you never get into a situation where you cannot escape. Release the main sheet, rotate the rudders and trim on the new mainsheet and the boat stops and sails back in the direction from which it came. There is no requirement for speed to tack or room downwind to gybe. It was also important that Bucket List be hard to damage. Not just the guarantee to replace anything that broke, but to ensure that hitting something did not mean the end of the regatta. Inadvertently sailing Bucket List onto a beach with the rudders down will result in a few scratches under the bow as the rudders will kick up when they touch the bottom. This is a far preferable situation to damaging foils, cases, rudders and gudgeons on a foiling cat. The final fool proof requirement was that the boat was quick and easy to rig. No nuts and bolts, or ensuring that the mast is set up straight with the correct tension on diamonds and shrouds. Simply plug the mast and beams in their holes, tighten the tramp by tensioning 2 lines, pull up the sail and away you go. Of course, all the fool proofing is wasted if the boat is not fast. BL's VPP indicates that it will sail in the high 20's in flat water. This is achieved with almost no physical effort. You do not have to swap sides, much less trapeze. I have no idea how this speed compares with the FP, but for the racing that BL is designed for, it will be far quicker than most of the opposition. The bottom line is that both boats are revolutionary and would be huge fun and fast to sail. Each will excel in certain courses and conditions. Whereas BL relies on light weight, long waterline and simplicity to make it fast, and it is highly unlikely that anyone will come up with anything longer, lighter or simpler."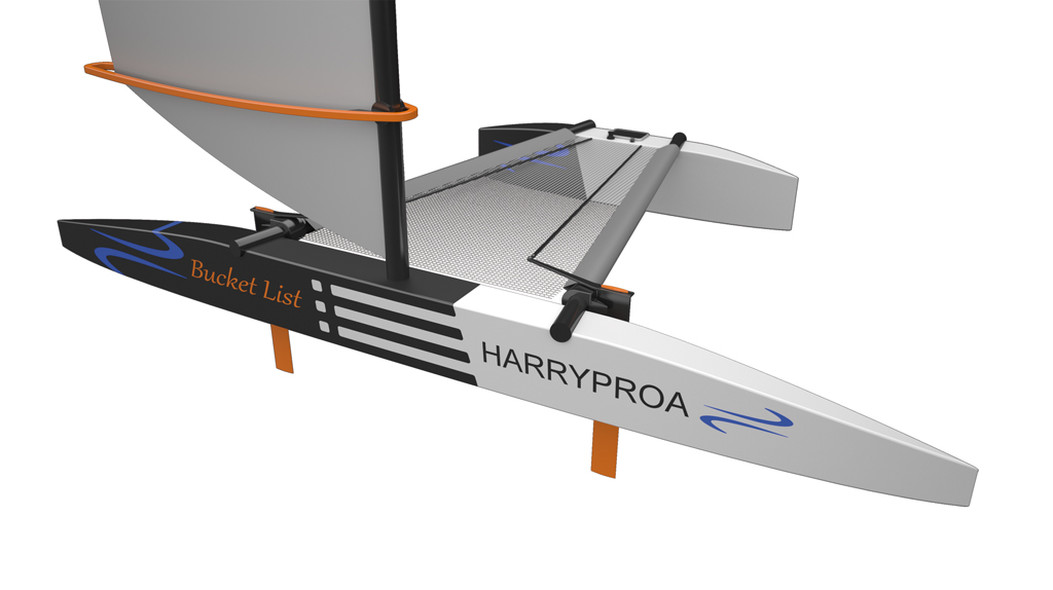 What readers think
Post a comment