Multihulls Match
Multihulls match
The Multihulls World match is an open forum, a space for freedom of opinion open to players in leisure sailing on several hulls. As usual with this column, comparisons don't mean anyone is right; they are rather a pretext for open-mindedness and discussion of the forum's favorites. This month's question: within the framework of building just one boat, is it best to go for a boat in kit form, or a one-off?
Modern design and digital cutting techniques associated with epoxy joints have revolutionized the construction of a single multihull. We wanted to give the floor to two architects, who each use these methods intensively in their own field.
For the one-off
By Patrick Balta
Patrick Balta is a French naval architect, little-known by the general public. A creative spirit, inventor, cabinet maker, talented designer – he endeavors to combine a classically-inspired approach to boats with the resources offered by contemporary design and manufacture.
My first 'real' design was a 15-meter schooner, designed on a plywood door painted white. I traced the curves using bandsaw blades! The hydrostatic and scantlings calculations were carried out using a slide rule! Afterwards, I designed lots of boats by hand, acquiring experience, but always remained frustrated by a table of sizes with a mediocre degree of precision. Full-size plans were essential! I therefore had to re-examine all that, to skip that stage which required almost a month's work for two experienced men with enough space. I was looking for THE method, when the first programmable calculators arrived on the market. The world was about to change!
Matrix calculation became accessible; mathematical functions and smoothing became practical. I therefore tackled the problem by programming the hull plan software that I am still using today (revised and greatly increased!). I started to build and fit out boats in different boatyards; the methods used were far from being optimized, the plans and the tooling were obsolete. However I learnt, and tried to optimize the processes with a cabinetmaker/artist (a former 'Compagnon du Devoir') who passed on invaluable knowledge. My programming work didn't stop at simple hull plans, I tackled scantling calculations according to the rules of the strength of materials, and in particular those concerning composites, which includes wood in all its forms. Today, 3D CAD, combined with specific naval architecture programs, allows a boat to be finalized in all its details quickly.
Let's get to the 'one-off'! THE unique boat, the one you have been dreaming of for all those years – the ultimate! Analysis of the specifications, first rough sketches; displacement, hull center, the plan appears directly in 3D for a very realistic preview. Whether the boat is chined or not, it draws the plans just as quickly! We continue with the scantlings calculations, based on the pressures given by the ISO standards. A pre-calculation of the composite structure validates the options. The forces at play are known, and the stiffeners are treated accordingly. At the end of the 3D design, everything is in place – bulkheads, ribs, deck, coachroof; the weight and center of gravity are given shortly afterwards. The hydrostatic calculations are carried out quickly, with stability curves in all directions. The computerized tools allow us to save a considerable amount of time, and make possible what was not possible in bygone days. Once the study has been validated, we have the plywood panels and the assembly templates cut out by a specialist company which delivers the labeled parts directly to the professional or amateur builder. There is no need for a sophisticated infrastructure for this kind of construction, the tools are essentially hand-held! The builder himself manages his purchases of materials: resin, glass, carbon, as well as all the equipment – he manages his own build! The one-off now exists at the same price as a production design! For the interior accommodation, the elements are manufactured in a workshop from plans (or templates pre-cut by a digital milling machine) and fitted into the boat; all the shapes are known to within 1/10th of a mm.
For me, a modern 'one-off' relies on the basis of a kit, which exploits all the resources of CAD and digital cut-out; I design it so that a small boatyard or an experienced amateur can build a fast, simple, elegant multihull for the best possible price. I have been able to test these methods happily on a number of boats, such as Bob Escoffier's 65' motor catamaran, the 15m cruising catamaran CAPT, and lots of sailing and motor monohulls. At the moment, I am finalizing a 14-meter cruising trimaran in completely developable plywood reinforced with glass fiber and epoxy resin. This construction will be carried out in an individual yard set up for the occasion. The pre-cut elements have already arrived. All the panels, the templates and the three models have been delivered by MCN for 20,000 euros including tax! However, to this must be added several thousand hours' work, the epoxy resin, glass/carbon cloth, consumables, fittings, rig, sails and engine! The trimaran will displace 5.2 tonnes, empty.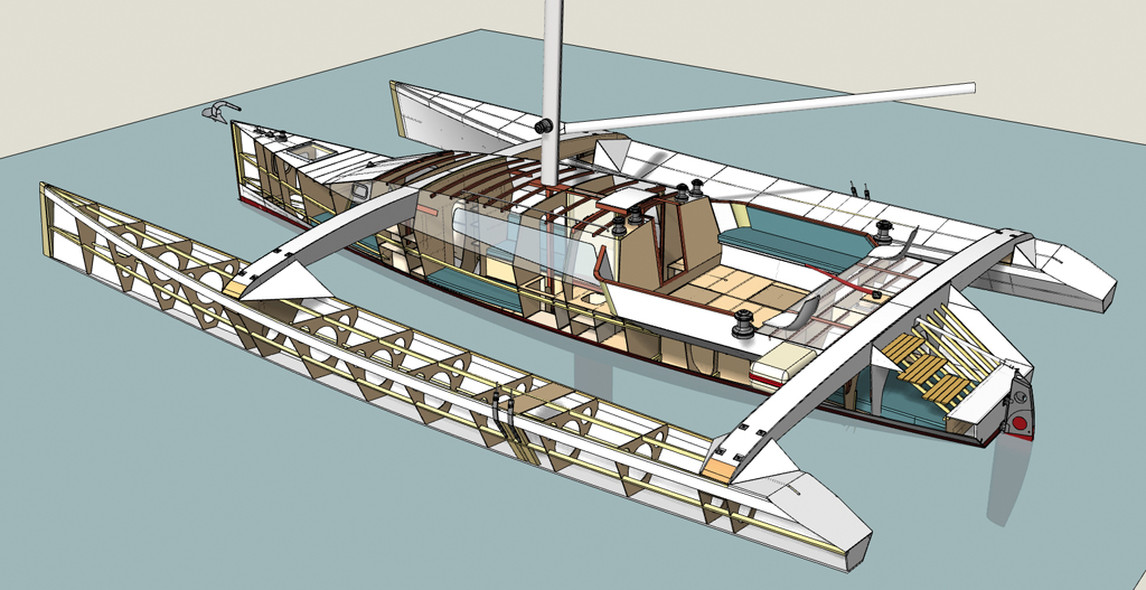 For the kit
By Jeff Schionning

Founded in 1988 BY Jeff and Lorraine, Schionning Design is present in numerous countries throughout the world (via a network of agents) and distributes the plans and kits concocted in its offices in Bundabah (north of Sydney). Little-known in Europe, Schionning Design is a leading office in the southern hemisphere.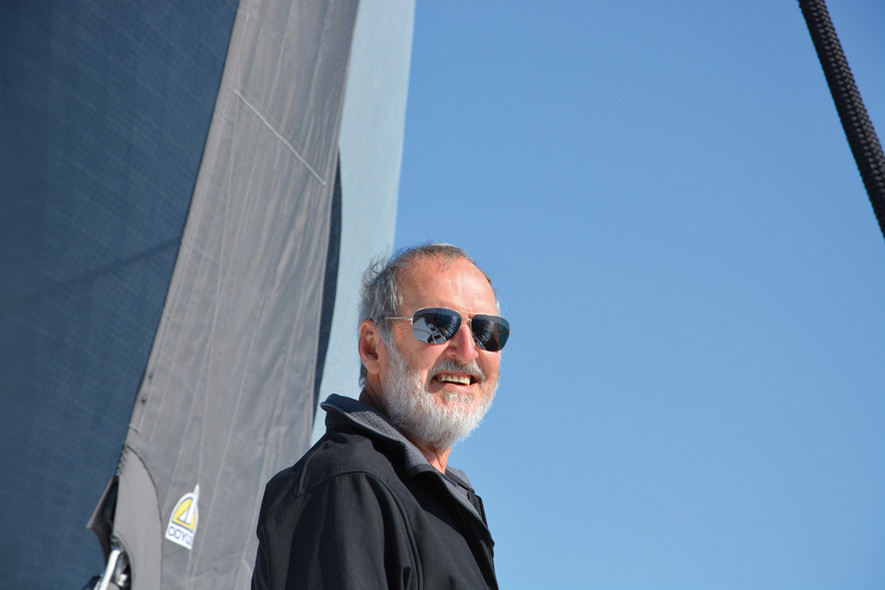 My first involvement with multihulls, starting back in 1987 in Australia, was building one-off cats and tri's using strip-planked timber epoxy construction with plywood for single plane areas like bulkheads and furniture.These 'mid-tech' materials were hard to beat in terms of cost and weight but they were time consuming in their construction and I kept thinking of ways that could speed up the building process and produce a good light weight cat. I designed the early Wilderness 1050 using ATL Composites Durakore™ planks and panels. Durakore™ has balsa end grain cores with timber veneer skins, we used the panels for all flat areas and stripped the planks for curved sections, although the Wilderness had multi-chined hulls, I kept some curved shapes at the deck joins and for the cabin top to keep some of the popular styling which at the time was very curvaceous. This was a major breakthrough that greatly reduced our construction time and the flatter panel styling was readily accepted by our clients. Moving on from here, at our request, ATL Composites made panels with fibreglass skins instead of the timber veneers and this is now called Duflex™, the product we use extensively in our current designs. Once the Wilderness design range was established and we had built a few in our own yard, we realised with the simplicity of this build system that anyone could build themselves a cat. All the complex measuring and lofting was no longer required and multihulls were very expensive as much of the cost was the labour and so we set about selling these 'kits' to owner builders around the World. The kit system was further developed by supplying the panels router cut in the factory and delivered ready for assembly thereby reducing again the labour involved in marking out and cutting all the panel parts. The Duflex™ Kit System is extremely effective for fast construction of one-off projects and so professional builders in Australia, and later around the World, quickly embraced it, preferring to build using our 'kits' and asking us to adapt our plans where necessary to include as much as possible pre-cut flat panel. The 'kits' produce very strong and lightweight multihulls – and fast. Unlike good old marine plywood, the panels require no stringers and no build frames for support due to their stiffness, and unlike strip planked boats that require more complex framing and hundreds of strips of timber or infusion which also requires a great deal of framing support and disposable material. The greatest challenge has been to make our designs pretty and use as much flat panel as possible. We think we've achieved this, look at our new and popular Arrow Series of cats. These modern 'stealth' lines are the current trend along with the reverse bow, a trend that began in big cats with our G Force 1400 back in 2006 and hardly a cat design now does not use it. The Arrow Designs are fast, lightweight, safe ocean flyers and yet with good payload and very comfortable. Their lightness allows high speed with far smaller mast height thereby increasing safety.The construction is simple, you join the pre-cut panels, release the full size components, set up bulkheads on a strongback frame, dry screw the panels to the bulkhead, check they are all perfectly aligned, back the screws off slightly and glue and then tape all joins. Turn and repeat for the second hull, set the hulls in cradles and tape the rest of the kit parts in position. The shell is now complete, simply fair and paint. Sounds too easy? It really is, we have helped hundreds of owner builders who built for themselves at less than half the cost of purchasing a cat. We found our kit system is about 30% quicker for the shell construction than any other one-off build process. There simply is no comparison to a plywood, strip cedar, or an infused shell with all it's throw away consumables and heavier end result. The cost of a Balsa Duflex kit for our Arrow 1200 design will set you back $89,370.00 AUD in Australia (57139€ export price) The kits are also available from VDL Composites in Germany for 60293€out of VAT. The kit includes materials to build the shell with furniture, forward beam, daggerboards and cases to a basic faired stage of construction. Plans are 8700€. Depending on motor choice, internal finishes, and equipment options, building hours are from 3500 for basic sail away to around 4500 hours for a cat with high end equipment specification. Dreaming of those South Sea Islands and blue lagoons, drinking rum punch under a palm tree? Then get going and build yourself a fast cat with a quick kit build system now.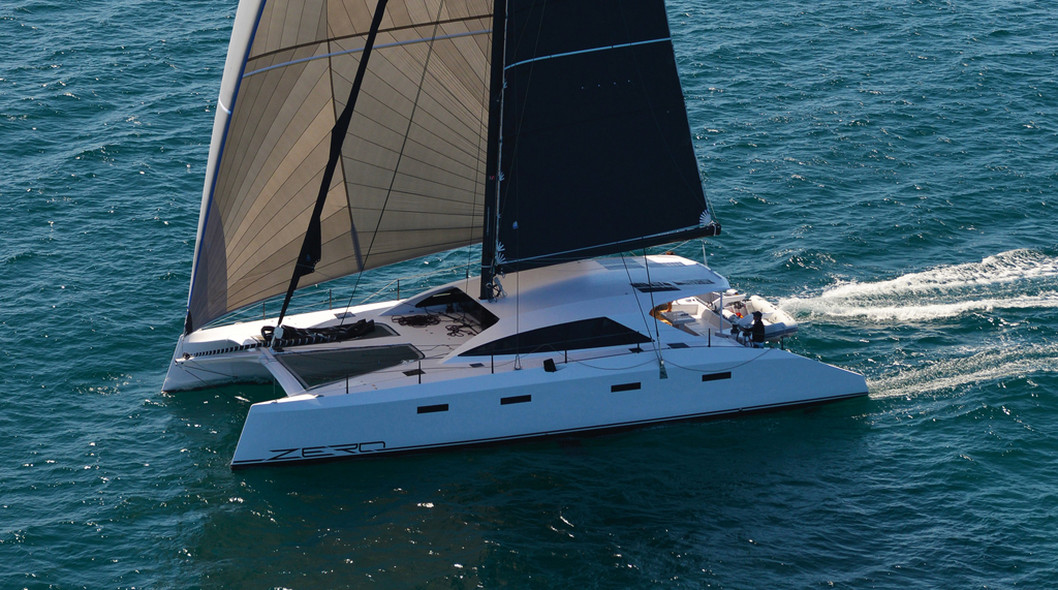 What readers think
Post a comment