Multihulls Match
MULTIHULLS MATCH : FURLING OR TRADITIONAL MAINSAIL
For the roached or square-topped mainsail Jean François Desmars
After starting in dinghies, I progressed to the IOR (quarter then half tonners), a few national titles, some victories at the 'Semaine de La Rochelle' and the Spi Ouest France, a transatlantic race and an honorable career in J80s (Coupe de France), before giving it all up after a family drama. I changed to multihulls after having been attracted by the concept during a charter in the West Indies. A first rather staid boat, then an extraordinary cat: Casa Mariss, a Petter 50' designed by Erik Lerouge – daggerboards, rotating wing mast, a bit of Kevlar and quite a lot of carbon, sublime finishing, in short, a cozy lounge which sails fast...(and even more than that!)
With a multihull, we try to approach a certain ideal idea of a sailor, combining safety, speed and comfort in an order which depends on each person's priorities. I have opted for these three qualities in an order which is adapted to the circumstances, and each person's mood, because unless you are fanatical about singlehanding (which I am also, sometimes), even a very fast cruise must remain comfortable for the crew, and offer good performance without having to continually change sail. The important thing is average speed with ice cubes in your glass, rather than maximum speed with spray in your face. There is also the question of being light to go fast, easily and for a long time; according to Colin Chapman's creed (the founder of Lotus): 'Light is right'. As the mainsail is the boat's main 'engine', it mustn't be like a jib (I'm joking!). It must therefore not be too heavy, have an adjustable shape and a maximum area for a given mast. Knowing that the further we get above the surface of the water, the stronger the wind, we must put some sail up high, where it is more efficient. (Some people don't hesitate to have cargo ships towed by kites). Let's start therefore by giving our fully-battened mainsail a nice, well-supported roach, or let's go mad and equip it with a square head, which will be to the mainsail what a turbo is to an internal combustion engine. There are now solutions for raising tensioned battens, but I prefer to haul it up myself (around 30 seconds). To stow it all? About the same time. OK, but where is the brake? Firstly, the braking is assisted...by the square head! A stronger gust? The square head greets the arrival of the stronger, backing apparent wind by naturally spilling wind to leeward. The mainsail's twist is increased, the boat accelerates quietly and we continue preparing lunch. We haven't braked, we have even accelerated! For ex-monohull sailors, it's a bit like the effect of tightening the backstay in a gust. If it gets even stronger, you have to take in a reef: 2 lines are enough, the halyard and the pendant. The tack is hooked on using a Dyneema loop. Well prepared, the operation takes from 2 to 4 minutes, to go from 100m² to...whatever you want, and there is no fear of the system jamming, as there is no system! I left in quite a hurry to carry out the operation, leaving my aperitif on the saloon table – when I came back, not a drop had spilt; I could almost boast about having succeeded in this maneuver, if it wasn't so easy! Cheers! Through laziness, I have nevertheless tried the so-called 'automatic' reefing system, with just one line for the tack and the clew. It works in the anchorage, but is not so good at sea! As always, leisure sailing has one eye on the racing world, and soon there will be rigid sails, but hoisting and reefing present problems which are still unsolvable. Progress in the field of sailcloths (on Casa Mariss it's an almost indestructible Hydranet Radial), profile support, and fittings has allowed target speeds to rise in a spectacular manner. I increased Casa Mariss's top speed by over 1 knot on all points of sailing with this type of sail! Over 24 hours, that represents 30 miles and an additional safety margin for getting ahead of any heavy weather. If you leave for the day, it leaves you with time to find a good anchorage and start cooking the sausages on the barbecue without getting in anyone's way, as you will be there before all the others! For me, a mainsail without a square head is like a wing without feathers!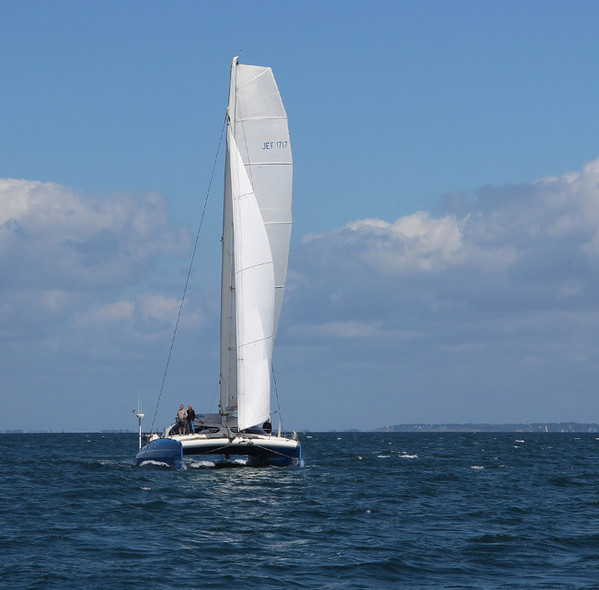 For an in mast electric reefing main sail John Charnley
John has sailed for more than 60 years. He started the charter company Sunsail in 1975. In 1980 he sailed the OSTAR in a 43ft monohull, and then went on to do some short-handed racing in 60ft catamarans and Trimaran. He has sailed a huge number of different monohulls and catamarans. In 1998 he and his wife Caroline started Discovery Yachts to produce the perfect boats for a couple to go world cruising. Based in Southampton, England, they now produce four sizes of monohulls from 48 to 67 feet and the luxurious Discovery 50 catamaran.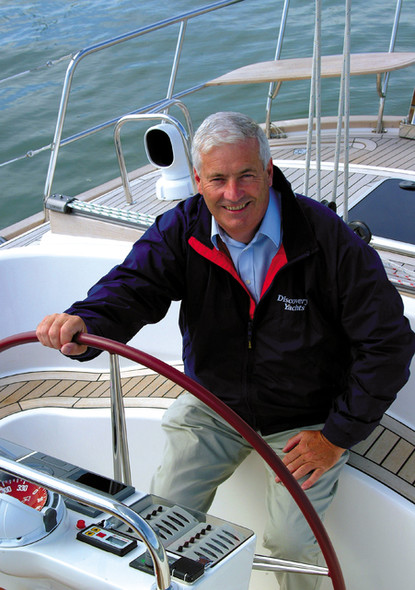 At Discovery Yachts, we originally specialised in building monohulls specifically designed to be handled by two people for world sailing - and we decided that electric in-mast reefing with a vertically battened mainsail was the right way to go. More than a million sea miles later our delighted owners would agree! When as a company we entered the multihull market we thought long and hard about the rig we wanted.
Designed for two people to go cruising :We decided that in-mast electric reefing with a vertically battened mainsail was again the right path to follow with the catamaran. For us and most of our owners who sail just two up, it is vital to be able to handle the boat with just one person – and for that person never to have to leave the safety of the cockpit – particularly at night.
Ease of handling and safety : Most of our owners hope to be doing a lot of trade wind sailing! The problem with conventional slab reefing (or in-boom reefing) is that in order to put in a reef it is often necessary to come more or less head to wind. This means coming around across the seas, suddenly increasing apparent wind speed – and certainly disturbing the off watch crew! The crew will almost certainly be needed to come and help. With the in-mast reefing one person can easily decrease or increase the size of the mainsail without any effort or fuss – whilst maintaining whatever course they are on.
Vertical Battens : Having a vertically battened mainsail helps add some roach to the sail and give a good shape. It also helps to flatten the sail as you reef.
But what about the loss of a big roach? To ensure the right size mainsail we increased the mast height and boom length – but almost more importantly we designed a boat that can keep the boom low (no upper helm position etc), so we have the mainsail area the boat needs. Probably in very light winds, a flat top main with a big roach will perform slightly better. But in our experience, when the winds get light, most people will start an engine to get to an anchorage or catch the tide.
Always having the right size sail : 40 years ago, when headsail roller reefing first came in, purists said "Ah, but you won't get such a good sail shape!" This is true, but what cruisers quickly realised was that with headsail roller reefing you can always have the right sized sail. It's easy to know when your boat needs to be reefed - you get on and do it. The problem comes when you have gone back to a warm bunk, and you hear the wind has dropped and you ask yourself "do I want to go forward and change headsails?". If it is easy just to pull out a bit more sail…you will do it. The same is absolutely true of in-mast reefing for the mainsail. Because it is so easy to have exactly the right size sail out, that's what you do! We also considered that for most of our owners sailing in the trade winds, they were likely to have 15-20 knots of true wind. In these conditions you might already have had to reef a large flat topped mainsail, so there is no advantage to the conventional sail.
With in-mast reefing…what if it jams? In tens of thousands of miles of sailing with in-mast reefing we have only ever had two jams – and both were through our own stupidity. We had moved a topping lift forward to the mast, not tightened it enough, and then rolled it into the mast! No problem…we just unrolled it, freed the line and continued to roll the sail. Many sailors have done the same with a spinnaker halyard in the headsail! We find that always keeping a little air pressure in the sail, or back pressure on the outhaul ensures a really neat roll and no problems. Looking at what you are doing…always helps!
What other advantages/disadvantages are there? One of the best is not having to haul a heavy mainsail aloft. This can be a heavy load for a light crew. It's also great not having to leave the cockpit to do anything with the main. You don't even have to put the mainsail cover on! But the critics will say that with in-mast reefing there will be more weight in the mast section. This is true, but it is surprisingly little. If you really want to reduce weight aloft, it may be worth considering PBO or carbon rigging. When we first launched the Discovery 50 catamaran, we thought people might criticise our decision to have in-mast reefing. In reality the opposite was true. We have now sailed these boats tens of thousands of miles, and wherever we go, other cat owners have come up to us and said "This is the most sensible multihull rig we have seen". These days I personally want safety and ease of handling. If I always sailed with a crew of 4, and certainly if I were racing, I might go for a conventional rig. For short-handed sailing I would always go for electric in-mast reefing.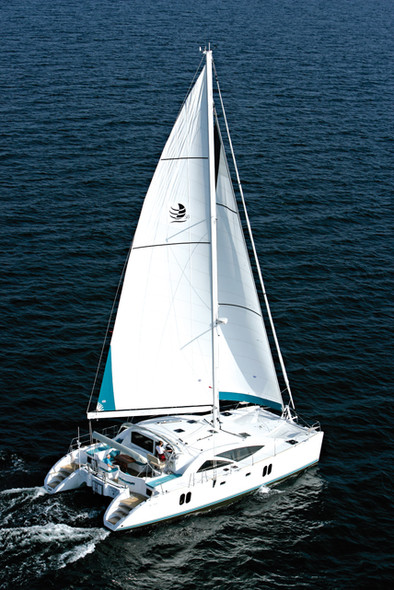 What readers think
Post a comment