Multihulls Match
MULTIHULLS MATCH : TO GET THE SPRAY FLYING IN THE SUNSHINE? A CLASSIC TRIMARAN OR A STATE-OF-THE-ART CAT?
Racing with a 50' Newick trimaran By Frederick Ball
Late one summer, in the early eighties, I sailed alone into Martha's Vineyard in my engineless Alfie Sanford sloop. I was becalmed outside the harbor, when as best I can describe, a beautiful sailing bird flew past me, wet and glistening in the late afternoon light. Its lone sailor headed up into the wind and stopped exactly on a mooring and jumped into a dingy and rowed ashore. All in the blink of an eye. An hour later when I got ashore, I asked a guy at the marina about that three hulled beauty. He explained, –Why that was Phil Weld and the boat is a Dick Newick designed trimaran named Moxie". He followed up saying the designer lived right up a nearby street, next to James Taylor and Carly Simon's house! I love music and I love pretty boats, so I found a phone and cold called Dick Newick. He answered. I said, –Moxie is the most beautiful creation I've ever seen! Would you be interested in designing a boat for me?" Continuing on, I said I really liked traditional boats and didn't have any experience with modern multihulls. Dick deadpanned very typically, –Well... Polynesians have been designing, building and sailing multihull boats for over two thousand years. Is that traditional enough for you?"
And so it began. On June 3rd 1983, I got the first Constant Camber Mold drawings and loft lines from Dick Newick. Dick further recommended I hire a Frenchman, named Alain Guidon, to head the construction. We started building a 49'-11" trimaran, then called –Manitou Payman", in my basement shop in Glen Arbor, Michigan. Drawings trickled in from Dick over an extended period of time, just keeping ahead of works. The last set was titled –Design #68, A Solo Racer for Mr. Frederick Ball." It was dated 6 April, 1985. After consuming about 150 gallons of the Gougeon Brothers great glue, we launched her that fall on Michigan's beautiful Good Harbor Bay. After many years sailing and racing on the Great Lakes--I might humbly say with great successãmy wife Pam and I decided to move –Lucky Strike" (her current name) to the Caribbean. We summered in St Lucia. Early this winter, with some trepidation, we decided to enter the 2016 RORC Caribbean 600. Our racing crew over the years had always been amateur. But for this race we needed local knowledge. Nils Erickson, who owns and races –Soma" the Morelli Melvin Formula 40, had an inside track on the competition as ex captain of the Gunboat –Zenyatta". Rounding out the crew was my cousin Michael Fisher, and another –Old Goat" Earl Lydenãour average age sixty eight. –Old Goats" are sailors who have completed 25 or more Mackinac Races. (If –Mac Races" sound easy you may want to ask Ted Turner what he thinks about racing on Lake Michigan. It's not a mill pond!) But, the RORC Caribbean 600 is a different challenge. The course is wild enough to make you think its creator was a relative of Jackson Pollock or the Marquis de Sade. Michael said he's never been in a 600 mile race with a hard 30 mile beat to the finish. Nils allowed, –The boat was great reaching and running. We were feeling pretty good by St. Kitts. We had built an 8-mile lead over our next closest mortal competitor, not the Mod 70s! Then the beat. A 34-yr old wooden tri just couldn't put the bow down upwind like the new all carbon boats. In a more typical year, the race would've been more reaching and favorable for us but instead it was about 300 miles of beating".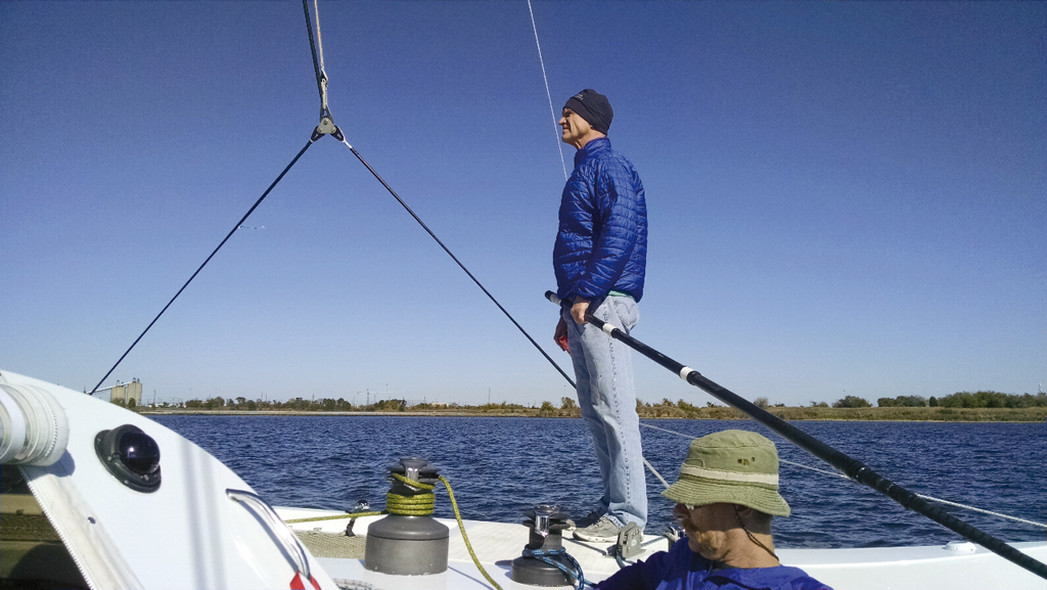 Personally, from an artist point of view, I'd never been in a race with a green laser light curtain to sail through at the finish line. Magnificent! Needless to say, coming in fourth behind two Mod 70s and a 62 foot Gunboat is a decent result for a three decade old wood epoxy boat. We blew out a couple of sails and broke some blocks. But as the guy who helped build Lucky Strike, and rebuilt her a few times over the years, I'm extremely proud of her. And I consider myself doubly blessed to have met the wizard who designed her all those years ago. But you may ask yourself, –How did the boat fare?" As she rested at the dock after the race, I looked at her lovely lines and sort of sensed the old girl was laughing at me saying, –Is that all you got?" I swear, I heard Dick Newick chuckling too...Cheers!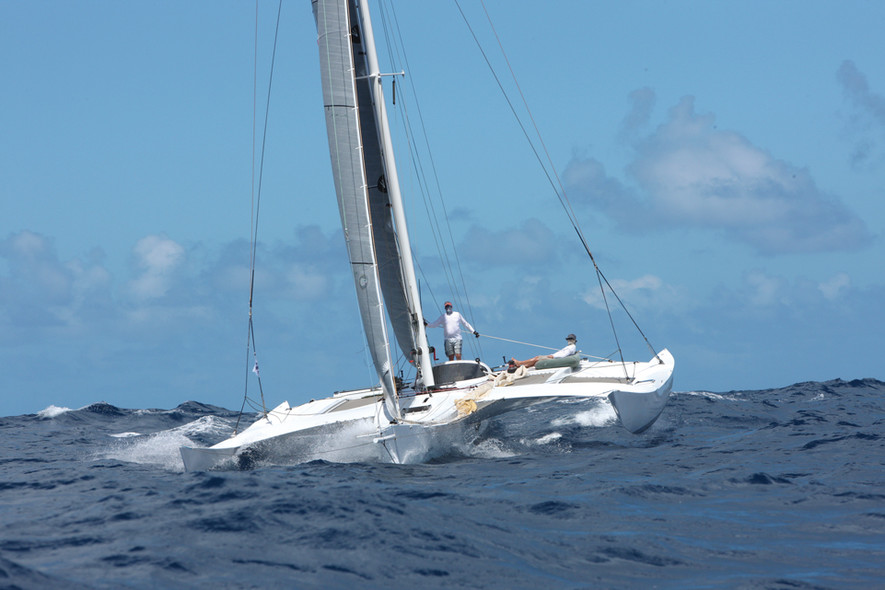 Racing with a High tech fast cruising cat, the Gunboat 62' By Owen Johnson
–What's for dinner?" Shouted the sarcastic crew on the rail of a fairly quick monohull as we passed them and nightfall was approaching on a leg of the RORC's Caribbean 600. They were taking hits of seawater with every wave, and that wasn't going to change through the duration ofthe race. They knew we were comfortable. Sitting on the rail had become something our crew
did only when a media boat was nearby to take their picture. We had to put down our plates of freshly baked lasagna to exit the comfort of Zenyatta's spacious salon and cockpit area to reply, a task that almost required foul weather gear. They were definitely eating freeze-dried that night. Owned by Jonathan Bush, Zenyatta is Gunboat 62-03. Of Morelli and Melvin design and the generation built in South Africa in 2003, there are only four 62's in total. The boat built on the idea of speed and comfort, performance meets luxury, had a chance to show these traits in this edition of the C600. Practical yet symmetrically pleasing, these boats are a perfect platform for world-cruising, and when stripped and slightly modified, can be turned into a racehorse. We were thrilled to enter this race in particular... warm water, scenery, and historically long, reaching legs; what's not to like?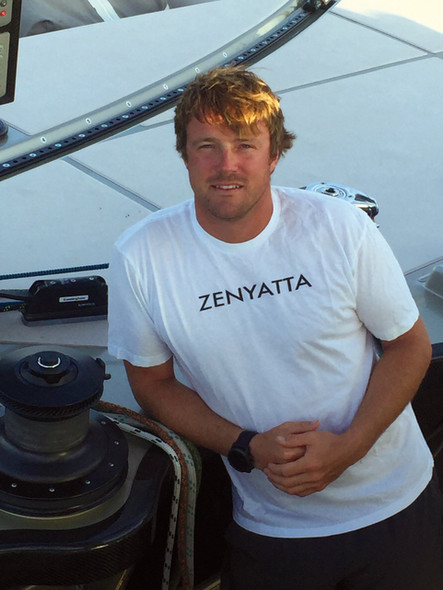 We were pleased to see an array of multihulls in our class. Fred Ball's Lucky Strike, an Outremer60 No Limit, and a TS42 Zed 6. Two MOD70's which we consider in a class of their own rounded out the group. A good start led us into the first beat to the corner of Antigua. We started getting anxious to crack off into angles where the boat could stretch her legs. As soon as the kite went up, we started to create our first gap between us and the class. We saw this gap shrink and grow over the next 24hrs, which made for great racing and kept the crew focused. A breeze that stayed South of East saw the fleet almost beating through the long leg to Guadeloupe from St Marten. As this didn't stop a MOD70 from breaking a course record, we would have liked to see this angle widened! Due to some great navigating and a few friendly clouds that helped us connect the dots, Zenyatta powered through the backside of Guadeloupe, who's infamous wind shadow swallows many teams up into a circling mess with their appendages often entangled in fish pots. We made our biggest gains, saw the most breeze, and demonstrated the best crew work when we cleared Guadeloupe. 25-30 knots was soon upon us, and we started to hull-fly during the night. One particular slam uprooted the Nespresso machine from it's perch, sending it across the galley. Like coiled-springs, those nearby leapt to recover their favorite vehicle for caf_ine intake, the very thing that epitomizes convenience and luxury onboard! Besides the near death of our favorite coffee-maker, we sustained minimal breakages beyond the regular wear and tear. An antenna fell from the spreaders, cracking a window. A tack pennant on a Code Zero failed on one of the last legs from Guadeloupe to Barbuda. We swapped headsails and it was here that I remember looking at the driver, who was sipping an espresso at the helm, inside, riding on 20 knots of boat speed, and thinking, 'I could do this again!'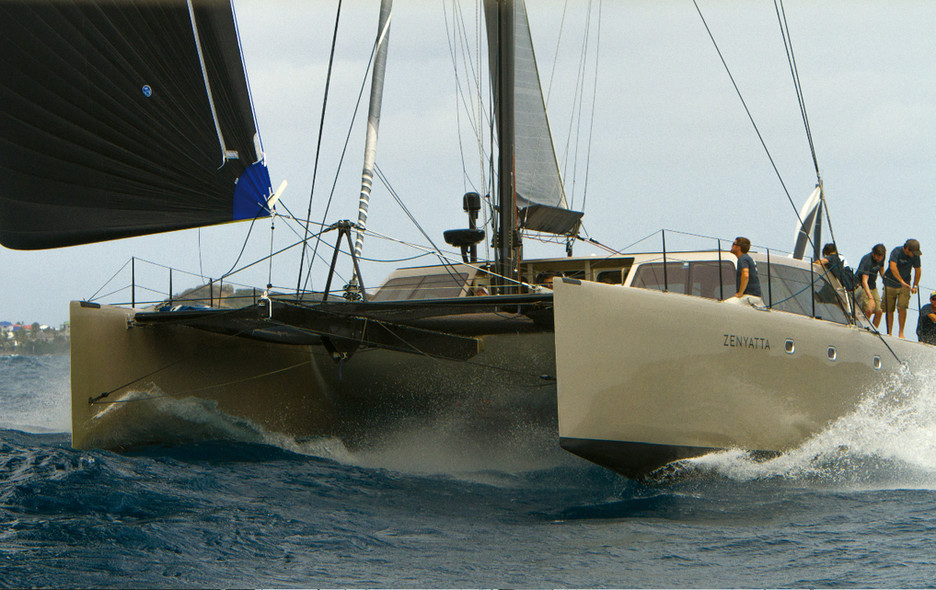 What readers think
Post a comment