Multihull
People of the sea - James Wharram's opus is compulsory reading
Revered as the guru of a luminous nautical ideology, contested for his openly libertine positions, perfectly in tune with the currents of thought - but also the contradictions - of his time, James the beatnik is certainly the most incandescent character in the world of multihulls of the 20th century. His drawings are directly inspired by Polynesian forms and his "eco-logical" designs meet today's expectations of happy frugality. His vision of the catamaran is simple, artistic, most often right. He has sold more than 10,000 plans, dreaming of tribal yachting, on the fringes of commercial and industrial setups.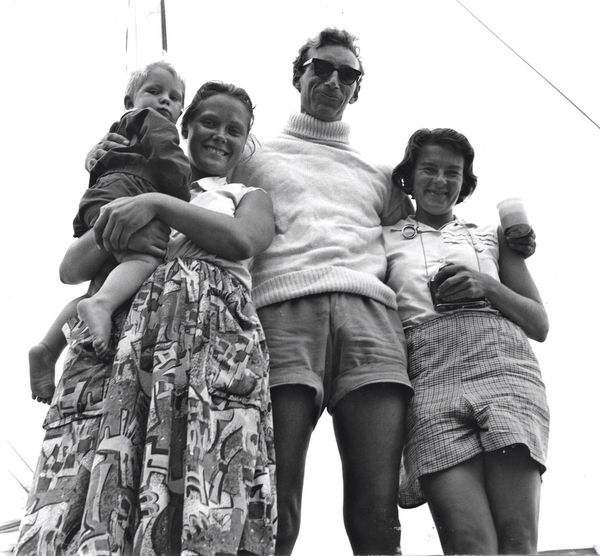 Three girls, thousands of catamarans!
10 years before anyone had heard of Flower Power, James Wharram prefigured all the energies of it, but he didn't take refuge in all those sulphurous escapes of the period. No, his isolation and destiny protected him from riding fashionable currents. James was not looking for a guru, though he could easily have become one - he was to become, almost in spite of himself, the deep-sea guide of a generation. Investing his talent and technical background in the myth of building a globalized consumer society was never going to be an option for him; his references are elsewhere. Pragmatic, he needed to take action and look for ways to turn his ideas into reality. Reading the tales of Éric de Bisschop and the discovery of a double Tahitian fishing pirogue at the British Science Museum merged with his "reservations about Western values" and his architectural curiosity. The lack of financial resources reinforced the temptation of minimalism: a combination of all these factors was to nourish the transatlantic project and the intuition of a sustainable development set the multihull apart. He saw the possibility of a global approach and built Tangaroa. The small catamaran, at just 23'6" (7.16 m) was frightfully rustic, slow and quite wet. But it opened the way, and lead to Trinidad "two girls, one man, one dog and 200 books; on arrival, everyone was still enthusiastic about the boat, so it was a success!" The little family (they'd had a baby by this stage!) logically settled in a floating faré moored in the port, where James designed Rongo. This 40-foot catamaran (12.20 m) synthesized his new ideas from the experience of their transat (longer hulls with triangular sections, doing away with the flat bottom of Tangaroa. Construction on the beach brought together three exceptional personalities who concealed exceptional destinies under their voluntary tropical homelessness. Bernard Moitessier has just lost Marie Thérèse II, Henry Wakelam (a nautical DIY genius) was looking for a boat; and so, the improbable trio set to work. This improvised shipyard was to become the template for everything that followed. The youthfulness, determination, recklessness and creative power of these folk, under the sun yet in the face of adversity, was to forever seal Wharram's faith in amateur construction and the ...
Become a member
Become a Multihulls World Community Member for free and get exclusive benefits
Become a member
What readers think
Tell us your opinion