News from the builders
Thailand - Yet another multihull country!
In this country where life is good and labor is obviously cheap, it's tempting for European, Australian or American nationals to set up a shipyard - provided they obtain the work permit, of course. Most yards have flourished around Phuket and especially in Chonburi Province, near Pattaya, where it's relatively easy to get supplies of raw materials and specific parts - engines, rigging, sails, deck hardware, electronics, etc. While transport and commercial vessels still have very traditional lines - such as the famous longtails - The new yards involved in leisure boating have, for the most part, specialized in multihulls. For nearly 20 years, a small one-design series - the Firefly 850 One Design - has offered a racing circuit that is as active as it is attractive to sailors in Phuket. The Thai workers are reputed to be excellent laminators - and very fast. Infusion techniques are increasingly used. Some major European brands outsource their production here.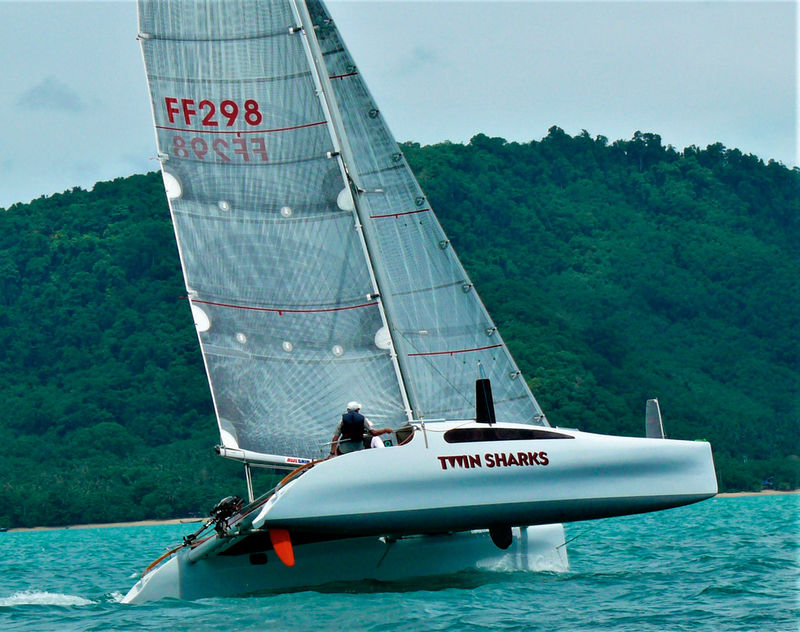 For almost 20 years now, the Firefly 850 One Design has been the boat of choice for Phuket Gulf sailors for multihull racing!
Feedback from customers who have been to Thailand is somewhat mixed: many are delighted with their multihulls and the standard of workmanship, while others are still waiting to go sailing... Building (and having a boat built) in Thailand is a tempting adventure!
The unmistakable Catathai!
The best-known multihull builder in Thailand among Multihulls World readers will be Catathai. Since 2004, this yard has produced a large number of catamarans up to 54 feet in length at their paradise premises by the sea on Koh Siray Island, Phuket. They even built a custom 18-foot cat designed by E.Henseval of ComBrit-STE Marine France for David Desage, the French manager of Rolly Tasker Sails in Phuket.
Production was unfortunately interrupted when founder/owner Hervé Le Touzé passed away in 2018. Since then, the company has been taken over by Gilles Reigner and restructured, including being recently relocated to Seaman Yachts in Prachuap Khiri Khan in September 2019. They now share the building facility with Seaman Yachts and are much closer to the supply of materials, now being only 185 mi from Bangkok, when previously, they were twice that distance. The molds have been transported to the new location as well as their 4-axis CNC machine which is one of the largest in operation in Thailand. Unfinished projects in Phuket have been moved across to other subcontractors in Phuket as transporting complete hulls was not practical.
Catathai's recently launched Andaman 50 has been sea trialed and made available for charter in Phuket, with Yachting Thailand – see Jonathan Jagot's full test in the previous edition of Multihulls World. Arguably the new Andaman 50 designed by Fortabat Yacht Design is the best catamaran that Catathai has built to date. The integration of the latest technologies in fiber with Kevlar and Carbon leads to a lightweight and robust boat.
Catathai's previous ...
Subscribe
Subscribe to Multihulls World and get exclusive benefits.
Subscribe
What readers think
Post a comment