Multihull
Caribbean Multihull Challenge - Racing and a rally for all multihulls!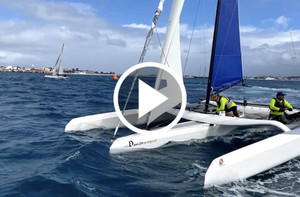 Discover our exclusive video
This makes the event resolutely multifriendly, of course, but for the forthcoming 2023 edition (February 3, 4 and 5), the bar is being set a little higher in both the racing and cruising classes. The CS1s will complete a new 52-mile course around the island of Saba in addition to the Caribbean 60 Mile Multihull Sprint - launched two years ago - and the now "traditional" circumnavigation of Sint-Maarten. For those who prefer friendly cruising, the CMC is offering the Cruising Multihull Rally for the first time. This rally will be held alongside the racing, but on very different courses. Day one will see a cruise to Road Bay, Anguilla, for beach games in the afternoon and entertainment with the option of dining at the famous Roy's before partying at the legendary Elvis Beach Bar. The next day, the flotilla will head to Anse Marcel for more games in the afternoon, followed by dinner and a party. And on the third day, the rally participants will return to Simpson Bay for the prize-giving ceremony and a closing gala.
What readers think
Post a comment