Readers Spots
Readers' letters this summer - Second-hand 40/42-foot catamarans. Which one do we choose?
Our project is as follows:
- we intend to sail 6 months a year
- initially in the Mediterranean
- then in the Caribbean
- and maybe beyond...
We would like to get our multihull at the latest by the end of 2023 to prepare it and to cast off in the spring/summer of 2024.
If we find that rare pearl before then, we will of course buy it before this deadline.
We sail regularly on monohulls and catamarans (charters and training courses) and we have started a technical training cycle (weather, marine electrics, safety, diesel engines, etc.) in order to bolster our skills.
We will be sailing mainly as a couple - except for long passages or when we'll be joined by friends and family.
We are targeting a size between 40 and 42 feet and a budget around € 350K.
We want a multihull that is comfortable but also performs well (especially for longer passages or in case of heavy weather) so that's our question: how to find a catamaran that is the best compromise?
Hence why we are emailing you, to ask you for advice on our pre-selections:
- Recent Lagoon 39 or 40 or older 400 or 410?
- Leopard 40?
- Bali 4.0 or 4.1?
- Lipari 41, Astrea 42, Lucia 40?
- or something else?
Depending on the people we talk to (and their interests) we get sometimes different and contradictory feedback, and to be honest, at this stage we are a bit lost.
If you were able to brief us on certain models (advantages and disadvantages) that would help us out a lot.
We subscribe to Multihulls World but beyond the very interesting tests, we really want to know about the boats' behavior when blue water passage making and in bad weather.
Thanks in advance for your time.
Fabienne and Hervé
---
Choosing the right boat for blue water cruising and living aboard is certainly complex: it would be the same for a house... This isn't a random comparison – buying a boat is a personal commitment which can of course take into account certain opinions - but in the end, it's going to be you sailing aboard the catamaran that's won you over, and it is you who will spend six months of the year aboard it! Of course, the size of the budget can be both dizzying and scary: what if this multihull wasn't the right one? To reassure you, there are currently no bad catamarans - despite the chatter on forums and social media. This is certainly true for the 10 models that you have pre-selected. And what's more, blue water catamarans are selling very well on the second-hand market at the moment, so you could easily switch for another boat in two or three years' time...
An essential criterion for choosing a sailboat is its size: the bigger it is, the faster and safer it is. But it's also more expensive to maintain, of course... So, the Astrea 42 scores well here, on the criterion of marine qualities.
Given your budget, you can afford a very recent model – maybe ignore the Lagoon 410, some of which are now getting on for 25 years old - and look more towards pre-owned models less than 10 years old, which will be far more reliable and less demanding in terms of upgrades required. A well-equipped Lagoon 400 can, however, be a good deal, even if it has already seen fifteen seasons... From the same manufacturer, the 39 and 40 haven't convinced all sailors with their very aft-stepped rig – a gennaker or spinnaker would be essential. To take advantage of a new or only just second-hand boat, the Leopard 40 and the Astrea 42 are still in production. Two other models still in production that could interest you are the Nautitech Open 40 and the Excess 12.
As an aside, note that the two Balis you mentioned, the 4.0 and the 4.1, are almost the same model. The later version included just a rigid passageway going across at the back, between the sugarscoops. These catamarans, when launched, were clearly aimed at the charter market. But their level of comfort has convinced private owners, seduced by the quality of life on board. Evidently, these Balis are somewhat optimized for coastal boating and semi-offshore cruising. Setting off on a transatlantic passage is still possible - many Balis of this size have crossed the Atlantic without incident, including the 4.0 shown here at the start of the ARC.
To get an idea of the performance of similar sized models, it's very useful to compare the upwind sail area to displacement ratios. The higher the figure, the livelier the catamaran will be under sail. A ratio higher than 10 square meters per tonne will even guarantee good performance in light airs. The published values are as follows:
Lagoon 39: 6.51 m²/t
Lagoon 40: 7.47 m²/t
Lagoon 400: 8.22 m²/t
Lagoon 410: 12.98 m²/t
Leopard 40: 9.17 m²/t
Bali 4.0 and 4.1: 9.10 m²/t
Lucia 40: 10.67 m²/t
Lipari 41: 11.78 m²/t
Astrea 42: 9.59 m²/t
Nautitech Open 40: 10.71 m²/t
Excess 12: 7.96 or 8.45 (Pulse Line) m²/t
To finish off, just be aware that not only geographical proximity but also love at first sight are an integral part of a second-hand purchase process. Keep us informed!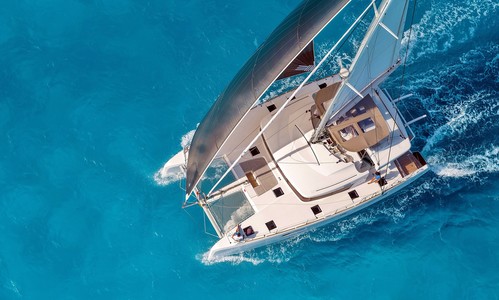 The Lagoon 39, launched in 2013, saw the mast stepped further aft, on the coachroof, as did the 52.
Test in MW131
Second-hand test in MM179
Video MW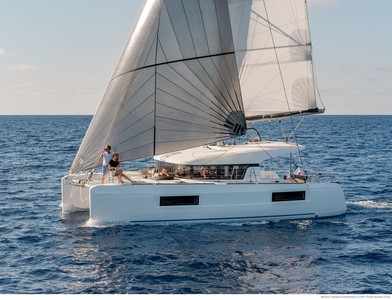 The Lagoon 40 offers a larger sail area than the 39.
Test in MW157
Video MW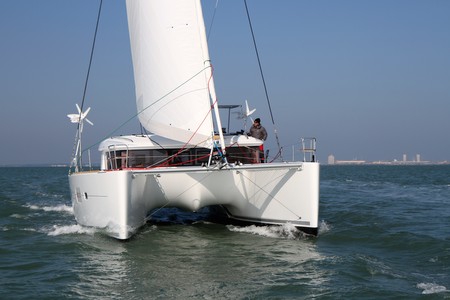 The Lagoon 400 enjoys a good reputation among cruising boats.
Test in MW107
Second-hand test in MW149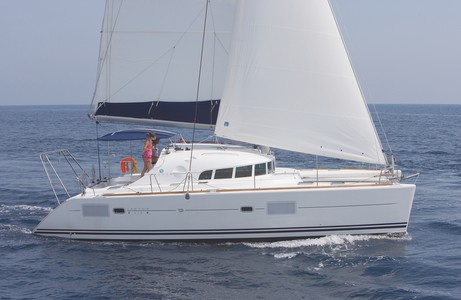 The Lagoon 410 was the first Lagoon to feature those vertical windows: an excellent catamaran but getting on a bit now.
Test in MW36, 67 and 84
Second-hand test in MW127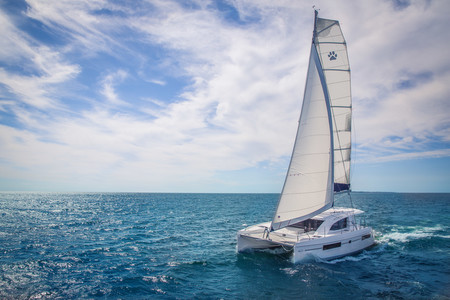 The Leopard 40 is a robust and compact multihull.
Test in MW143
Second-hand test in MW171
Video MW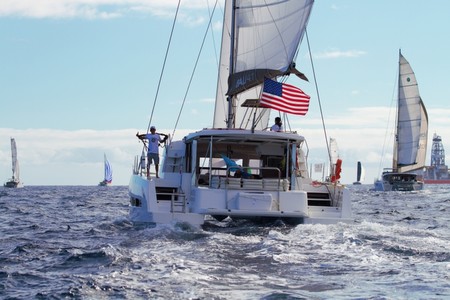 The Bali 4.0 was designed for charter in the sun, but this model is also suitable for other programs.
Test in MW147
Second-hand test in MW175
Video MW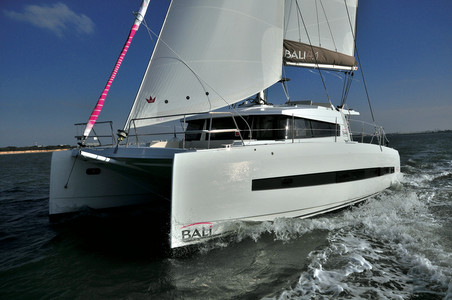 The Bali 4.1, compared to the 4.0, benefits from a fixed aft platform.
Test in MW159
Second-hand test in MW175
Video MW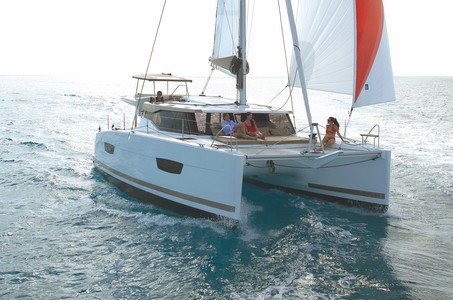 The Lucia 40 has remained very modern - its successor, the Isla 40, is the current variation.
Test in MW148
Video MW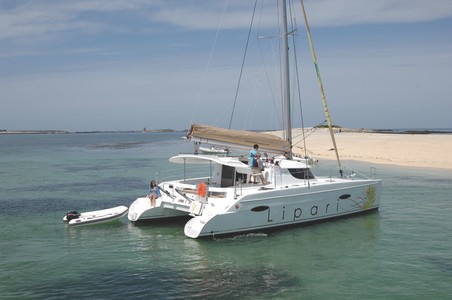 The Lipari 41 is undoubtedly one of the fastest catamarans among this selection.
Test in MW137
Second-hand test in MW182
Video MW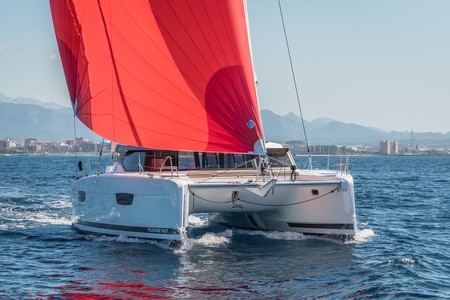 The Astrea 42, with its 41'3" (12.58 m) hull, will be the most comfortable at sea.
Test in MW161
Video MW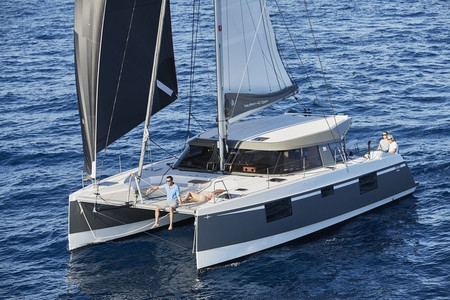 The Nautitech Open 40 makes do with a compact nacelle to give more space in the cockpit. The current version is the MK2.
Test in MW136 and 158
Video MW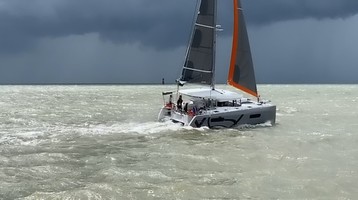 The Excess 12 offers helm stations at the after end of the hulls.
Test in MW169
Video MW

What readers think
Post a comment